I live in Plymouth on the South Devon Coast in England and I am 61 years old.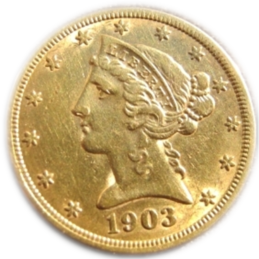 My best coin to date.
A Gold American Five Dollar Liberty Head
A real passion for metal detecting has brought me to create this Blog and to share my metal detecting experiences and finds with you. I'm no scholar or internet whiz kid and this is my first crack at being a proper Blogger, so please bare with me as I try and build this site how I would like it to look.
I'm aiming for a Blog where as well as showing off my finds and chatting about my own metal detecting experiences, I want to also show all aspects of metal detecting and what's out there in this wonderful hobby.
I like to think I am a responsible detectorist, just enjoying my hobby as best I can within the code of conduct and the law.
I'd like to point out I'm no expert. I'm still learning this hobby myself. By making this Blog it encourages me to do some research on topics related to metal detecting and so I am improving my own knowledge. If you pick up any tips or find some topics interesting then that makes me happy.
I first started metal detecting in August 2012 with a Garret Ace 250 which I still have as a back up machine. I've had a Garret AT PRO, a C.Scope CS4PI and also a Nokta Velox One and am now using an XP Deus 3.2.
You will see on my blog that I show all the finds I make on my hunts, even if its only one button or a corroded copper coin. The reason for this is to show the reality of metal detecting, its not all gold and silver. I've had, and am still getting my share of trashy finds, but by persevering now and again I do find something interesting.
Hope you enjoy your visit here as much as I enjoy writing it, and if you have any comments or feedback please feel free to post on my Blog You can find the post a comment by clicking the 'no comments' or '1 comment', '2 comments', etc, at the bottom of every post. It would be great to hear from others who enjoy this great hobby.
All the best and Happy Hunting,
Janner53.